The Check Engine light, which is also called a Malfunction Indicator Lamp or MIL, is a standard feature on today's cars. It is an important safety feature that alerts drivers to potential problems with their vehicles. Still, it can also be very frustrating when you do not know what it means.
Outline:
Mistake 1 – Not Checking for Codes
Mistake 2 – Assuming You Know What is Wrong Before You Do Any Diagnostics
Mistake 3- Ignoring other warning lights on the dashboard
Mistake 4 – Not getting help from a trusted mechanic
Dependable Car Care in Ventura, CA
The MIL is usually located on the dashboard or instrument panel. It can be a helpful tool when diagnosing issues with your vehicle. It is commonly seen in newer cars, but some older models also have them.
Nevertheless, it is pretty common for drivers to misdiagnose what is causing the "check engine" to come on. If you have ever been dumbfounded by the meaning of a check engine light coming on and off, here are five common mistakes you should watch out for:
Mistake 1 – Not Checking for Codes
The check engine light is an excellent tool for diagnosing problems, but many things can set it off.
Fortunately, it is mandatory for US cars and light trucks manufactured in 1996 and onwards to be OBD-II compliant. This means that your car has some kind of diagnostic port that can be accessed by a code reader.
OBD-II codes help you figure out what is wrong with your car and narrow down the possible issues that may have set off the "check engine" light.
There are plenty of places where you can pick up a code reader for cheap, but be sure to check if yours is OBD-II compliant before buying. It should also have some kind of manual that comes with it to help you know what each trouble code means.
But, if you're not comfortable running your own diagnostics, you can always take it to a mechanic. They should have the proper tools and knowledge to help you figure out what's wrong with your car.
Mistake 2 – Assuming You Know What is Wrong Before You Do Any Diagnostics
Do not assume that you know what is wrong with your vehicle just because the "check engine" light is lit. There are many reasons why the light might come on. And, it is difficult to know with certainty which of these issues triggered the "check engine" light unless you run a diagnostic scan.
The right thing to do is to take your vehicle to a mechanic as soon as possible and let them diagnose the problem. Experienced mechanics who use reliable diagnostic tools should be able to tell you what is exactly causing the check engine light to go off. Some of the most common causes include:
Faulty oxygen sensor
Bad Spark Plugs
Loose Gas Caps
Bad Mass Air Flow Sensor
A Faulty Catalytic Converter
Non-Compatible Aftermarket Alarm
A Faulty Ignition Coil
A Faulty Battery Charging System
Leaky Vacuum Hoses on the EVAP System
A Faulty Exhaust Gas Recirculation Valve
Others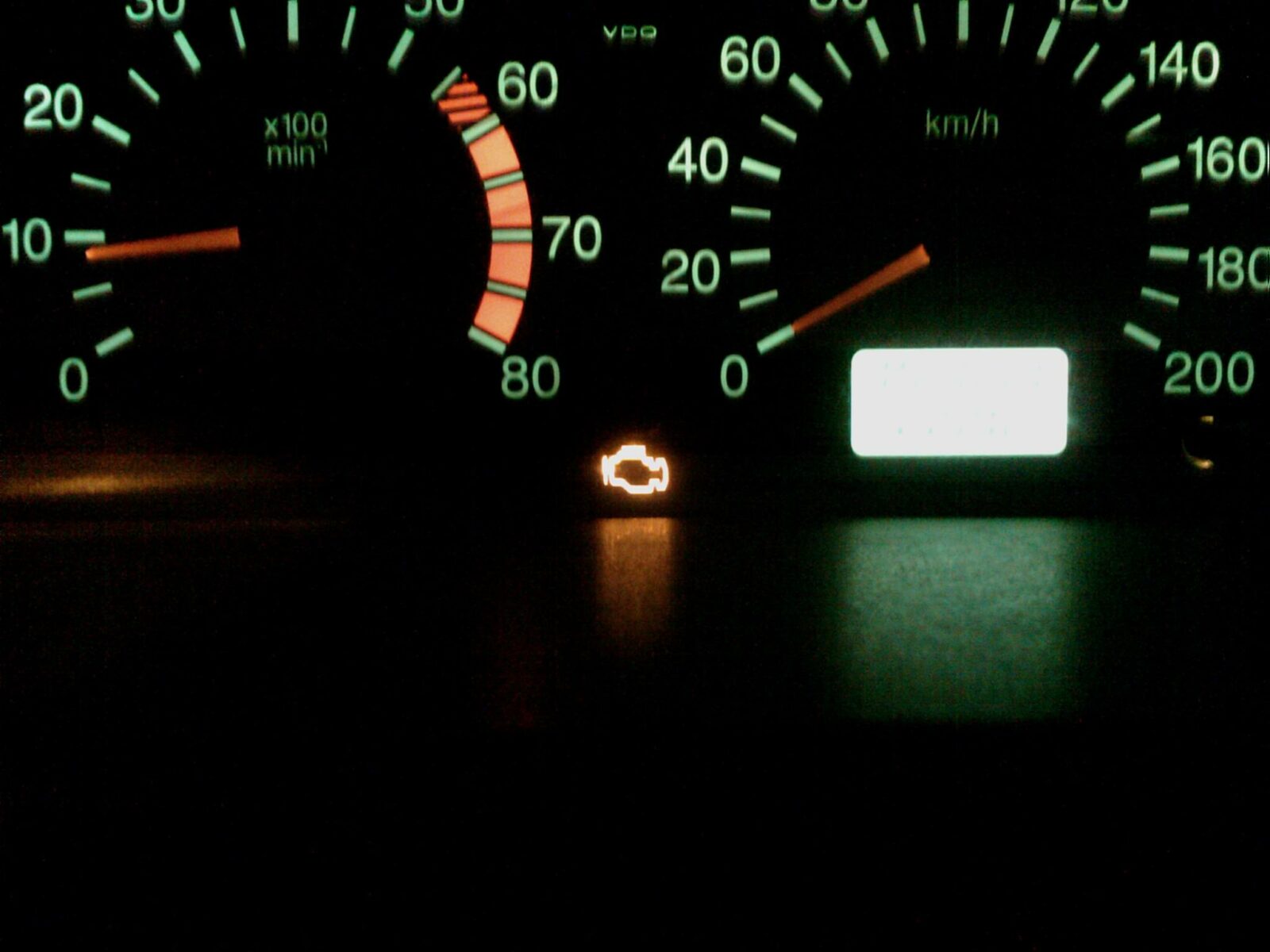 Mistake 3-Ignoring other warning lights on the dashboard
If your check engine light illuminates, notice if other warning lights are also on. Ignoring these other warning lights could put your safety at risk. Your check engine light might be caused by problems flagged by these other warning lights.
For example, the check engine light is usually accompanied by the ABS light. If the ABS light comes on, it can mean that there is a problem with your anti-lock brakes, and you need to have this checked out immediately.
If you are driving a Toyota Prius, the other warning signs are:
Charging System Warning Light
Cruise Control Indicator
Electric Power Steering (EPS) Warning Light
Headlight high beam indicator
Low Engine Oil Pressure Warning Light
Low Fuel Level Warning Light
Master warning light
The owner's manual for your car is filled with helpful information about your vehicle, including instructions for resetting the check engine light if it comes on while driving. If you have lost your copy of the owner's manual, you can find a copy of it on the website of the manufacturer or at an auto parts store.
Mistake 4 – Not getting help from a trusted mechanic
While most problems are easy enough for anyone to identify, some issues require specialized training that can be challenging, if not impossible, for an amateur mechanic to diagnose. How much more if you are just a DIY enthusiast who sparingly tinkers with cars?
So, if you are not sure how to do it, you better take your car to professionals who know what they are doing. If you don't, you might end up spending more money and causing yourself more trouble than if you had brought your car to a professional in the first place.
Dependable Car Care in Ventura, CA
Dependable Car Care offers complete car care services for your vehicle. We are a full-service auto repair shop serving Ventura CA for a long time. Over the years, we have built our reputation on providing high-quality work at a fair price.
Our knowledgeable staff can handle any type of automotive service you might need—from oil changes to engine repairs. Our team takes the extra mile to ensure that everything that we do here at Dependable Car Care meets all our customers' expectations.
We know that you can choose from many other auto repair shops in Ventura, CA. So we strive to do whatever we can to earn your trust and keep it. Our experts at Dependable Car Care always be open and honest with you, as we believe that this is the best way to build a lasting relationship.
Our goal is to provide you with the highest quality service at an affordable price. We know that everyone's budget is different, so we work hard to find ways to help our customers save money without sacrificing quality. We are happy when our customers leave feeling like they got more than they paid for.
For any questions about our car care, maintenance, and repair services or to request a free estimate on any of our car services, contact us at 805-918-5286. You can also come by our shop whenever you are in or around Los Angeles Avenue. Dependable Car Care is located at 1561 Los Angeles Avenue, Ventura, CA. We are open from 7:30 in the morning to 5:00 in the afternoon, Mondays through Fridays.