Outline:
Check the Battery
Regular Filter and Fluid Changes are Essential
Check the Brakes, Tires, Suspension, and Steering Systems
Check the Tire Pressure
Clean the Lights Thoroughly and Replace the Bulbs When Needed
Inspect the Car Engine
Examine the Cooling System
Refill Wiper Fluid and Replace Wiper Blades
Call Your Trusted Car Repair Shop Now
Summary: With the winter season coming to an end, your hybrid car will require a thorough checkup to prepare for the upcoming spring. For sure, you will want to hit the road comfortably now that the weather is warmer. Thus, it's crucial to check every component of your hybrid vehicle. Here are the ways to prep it up for springtime.
Check the Battery
During the onset of spring, check for any buildup of rust or corrosion, which is caused by evaporating battery fluids. Apart from this, ensure that battery cables are tightened, and water levels are at the correct fill. Winter, spring, summer, or fall can take a toll on the hybrid battery in different ways. Thus, taking your vehicle to a trusted car repair shop before and after every season is imperative to keep the battery in tip-top condition.
Regular Filter and Fluid Changes are Essential
Aside from its battery pack, a hybrid car also has a regular engine. So, it has parts that need to be lubricated with fluids and oils, such as the transmission, motor, coolant, and more. However, the beauty of a hybrid is that you do not need to do maintenance as often as you would a typical car engine. But what is the appropriate maintenance schedule for a hybrid? For this, you can refer to the owner's manual or ask a professional mechanic. At Dependable Car Care, hybrid car maintenance could not be any simpler. We have a team of certified and dedicated hybrid car experts who can help maintain your vehicle for years.
Check the Brakes, Tires, Suspension, and Steering Systems
A checkup on the brakes, tires, suspension, and steering is another aspect of making hybrid car maintenance like that of a regular car. Each of these components undergoes wear and tear.
The tires must be checked for proper air pressure inflation, uneven wear, and tread depth. Meanwhile, if you have immediate visual access to the brakes, examine them to determine if you need a new brake pad. You will also want to look into the disc to ensure it is shiny and uniform and no rough spots or deep grooves are visible. Moreover, ensure the pads are wearing evenly and have over 1/8 inches of pad left.
To be 100% sure about the condition of your vehicle, take it to a professional mechanic for thorough brake repair and inspection. Professionals know best, so you can rest assured that you will get an accurate diagnosis of every component.
Check the Tire Pressure
Make sure to check your hybrid car pressure and see to it that it meets the recommended tire pressure in the manual. The tire pressure changes with the temperature, so it is vital to check its readings between spring and winter. While you are at it, you must also examine the tire tread and ensure that it's enough. If the tread is not sufficient, the tires will not be able to grip the road as they should. As a result, it will be hard to handle the hybrid car in wet weather, and you'll not be able to stop your vehicle straight away.
Clean the Lights Thoroughly and Replace the Bulbs When Needed
Headlights and taillights also get filthy and grimy, and when they do, they make it difficult to drive in the dark. You can use baking soda, water, and a soft brush to clean these parts. Replacing bulbs is easy to do, and there are guides available online that you can follow. However, a small mistake can lead to a costly repair. So, you can never go wrong with entrusting the job to professionals.
Inspect the Car Engine
Your hybrid car partly relies on fuel, which indicates that routine engine inspections are just as vital as with a conventional car. It is highly recommended to bring your vehicle to the nearest car repair shop to check the engine, examine the engine oil, as well as diagnose any possible problems.
Examine the Cooling System
Checking the cooling system is also a vital thing to do to prepare your hybrid car for the spring season. Are there any fractures or leaks in the hoses or radiator? Are the antifreeze and coolant levels half full?
As the temperature rises, the coolant of your hybrid car could reach up to 259 degrees, which may cause it to overheat. That is why it is vital to be sure the cooling system is in good working condition.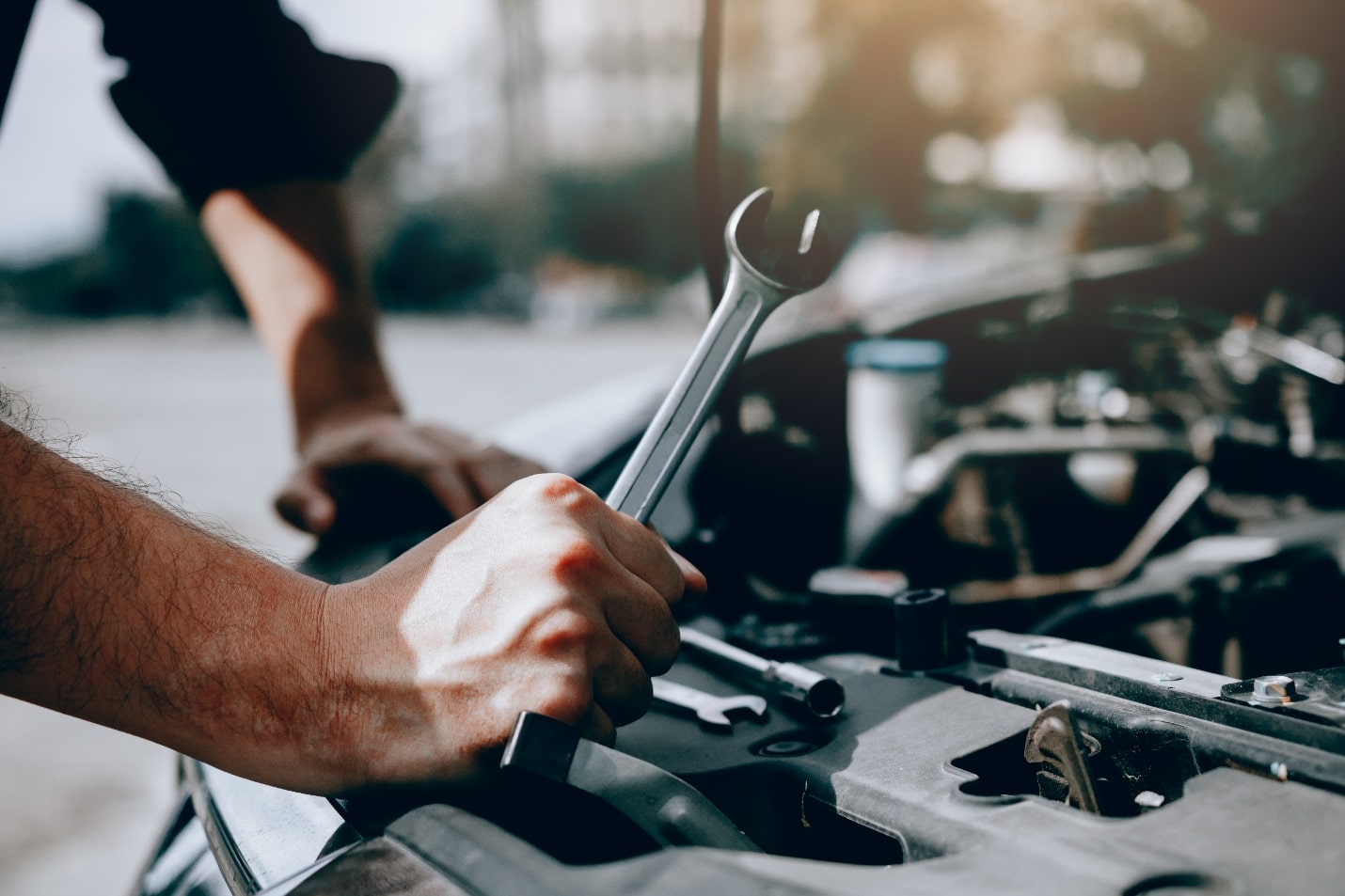 Refill Wiper Fluid and Replace Wiper Blades
Months of clearing away snowfall can wear out the wipers of your hybrid car. If they're chattering, spreading water across the windshield, or simply malfunctioning, then it's time to do something about them. Clean them and if they don't work well, replace the wiper blades. You must also refill the wiper fluid in preparation for the spring and summer rainstorms.
Aside from doing the above, consider the following:
Wash your hybrid car from top to bottom
Wax it
Clean the tires and wheels
Check under the hood and perform a tune-up if needed
Check belts, hoses, and fluids
Check the shocks and struts
Check for leakages and have your car inspected to find the cause of the leakage
Check the engine light
Your hybrid car will eventually require a spring inspection. So, don't neglect taking it to a reputable car repair shop for specialized and professional service.
Call Your Trusted Car Repair Shop Now
Committing to regular maintenance is the key to keeping your car on the road longer. When it comes to hybrid car maintenance, it is vital to work only with certified and trained mechanics like those at Dependable Car Care in Ventura, CA. Not only do we specialize in repairing your hybrid car, but we also provide you with expert advice on the appropriate hybrid car maintenance schedules. So, schedule an appointment for a hybrid car checkup and maintenance now!