It's that time of year again! The leaves are changing, the air is crisp and you can feel a chill in the air. Fall car care is something that a lot of car owners forget about, but it can be really important to prepare your car for the cooler weather.
As days grow shorter and temperatures drop, you need to make sure that your car will start in the morning so you don't get stuck on the side of the road. This blog post will talk about some essential tips to prepare your car for the fall!
Let's check some of fall car care tips:
Fluid Level Matters
With the end of summer comes a decrease in car fluids. These liquids keep your vehicle running smoothly and efficiently by preventing corrosion from forming on metal components like brake fluid, engine oil, power steering fluid, antifreeze/coolant, or windshield washer water.
Be sure to check all levels before driving too far into winter weather as cold weather and fall car care can be quite time-consuming and expensive.
Make Sure All Your Lights Work
As the days grow shorter, it may be hard to notice if any of your car's lights are out. If you know how then get a friend to help you make sure all of your exterior lights (brake lights and reverse) are working correctly.
A dead light usually means you need a new bulb. But sometimes the job is difficult. For example, on some cars, you need to take off the front part to get at the light bulbs. There are instructions in your car owner's manual about how to change a bulb. You can always give your car to an expert to do the job for you if you find it hard.
Inspect Your Vehicle Battery
In winter weather, batteries can be particularly hard on a car's performance. If you don't have an auxiliary battery or your old battery is three years or older, then it's time to replace it, or might be time to check the condition of your connections to make sure they are tight and free of corrosion.
Batteries lose power over time. If you use them more during winter then you must check them as a fall car care month before the fall session starts.
Wiper Blades Can Be Crucial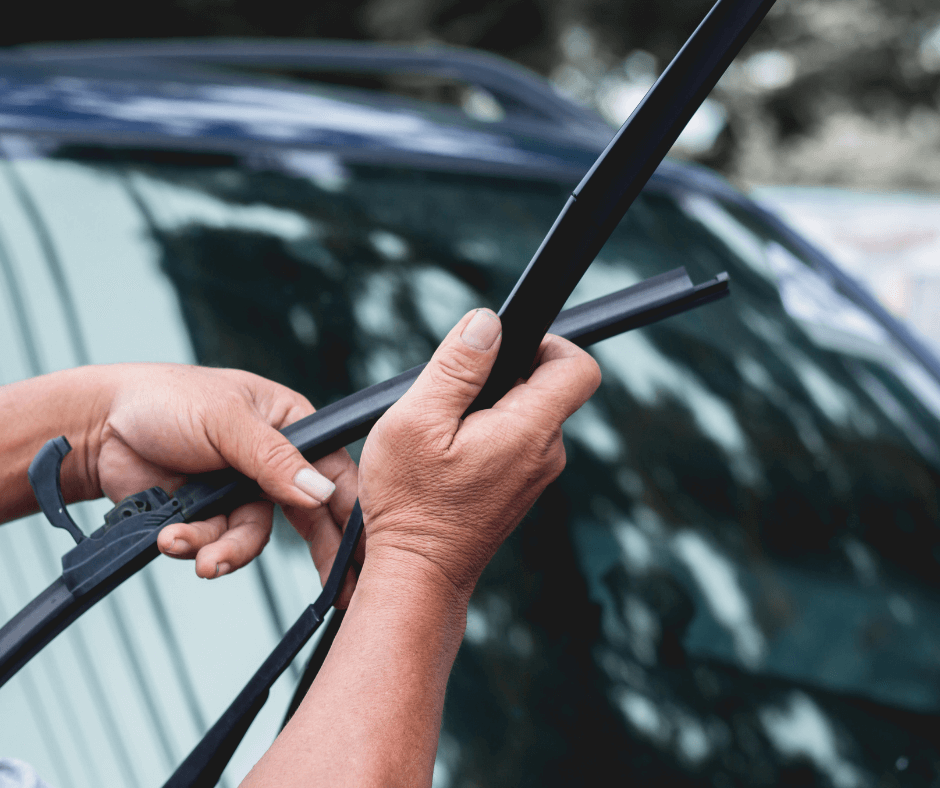 Wiper blades can be crucial for fall because of the changing weather. You will want to make sure as your fall car care routine, that your wipers are in good shape and you have scheduled a time for them to be replaced if need be. A lot of wiper blades generally last around six months, so it's best to check on their condition before the winter season starts.
It is a time of year when wipers may become less effective due to more rain, leaves, and other debris on the windshield that needs to be cleared off.
Checking the Heater
Check your heater before fall hits. If it doesn't work, be sure to replace it or get a technician's help as soon as possible. If it does work, be sure to have your heater checked at fall service intervals for preventative maintenance. In cold weather climates, you should check the inside and outside of your car's hoses annually.
Your vehicle's heating system is important not only for comfort but also for safety as well! Defrosting and visibility may depend on it in the colder months.
Test The Brake System
There are many reasons why fall is a good time to test your brake system. One reason is that it's more likely for people on icy or snow-covered roads to need their brakes in the fall.
Secondly, fall also means that temperatures will be dropping which can affect brake performance, causing them to freeze up in cold weather.
Harsh Winter Can Be Hard on Tires
Harsh winter can be hard on tires, so you should consider getting a set of tires with winter compounds. To check your tires, look at the tire tread. They should be as deep as possible. Look for signs of wear and tear, such as bulges or bald spots. Check the tire pressure to make sure that it is right for your car's tires.
Try winter tires, they are made of a different rubber compound and have extra grooves. In winter, the tires stay flexible so they don't wear out. They also release water in the rain so you can continue to drive.
Want To Keep Your Car In Working Order For Fall?
Fall is here and it's the perfect time to start thinking about winterizing your car. If you're looking for a car care service that can keep your vehicle up to date and ready for this fall, don't worry, your search is over.
Dependable Car Care is here to help! Trust us with all of your automotive needs from oil replacing to tire rotations – we're the experts in cars. Give us a call today or visit our website to learn more about how we work, what makes us different than other shops around town, and why so many drivers trust their vehicles with us each year!