You're new to the car-buying game, and you have a lot of questions. What should I look for? How much will it cost me? And do I really need that new technology package? Where do I go for auto repairs?
You may be tempted to just walk into a dealership and buy whatever car is on sale, but before you make your purchase decision, there are some important factors you'll want to consider first. In this blog post, we'll go over 5 tips that will help guide you through the process of buying a new car!
Find Your Budget
Price Of The Car
How much money are you willing to spend on a new car? The price of the car can vary anywhere from $15,000 – $100,000+ depending on the make and model. For example, a Honda Civic is going to be cheaper than a Mercedes S550. If you have an updated budget then it will narrow down the list of cars to choose from.
Cash Payment
There are different types of cash payment methods that you can choose from when buying a car. They include:
Cash price only
Some dealerships offer the price for your new vehicle with cash, while others may also require trade-in equity or down payments. You get to keep all the money and use it as you please.
Trading
If you have an older vehicle that you want to trade-in, your dealership may offer a price for the new vehicle plus some of the value from your old car. This is done by taking a percentage of the price of the fresh car and factoring it into what they are willing to pay for your trade-in.
Monthly Payment
What is your monthly income? The average person makes $36,000 annually so someone making that much money would be comfortable spending around $500 monthly payment on a new car. Of course, it depends on the type of loan as well and oftentimes people will spend more than their comfort zone because they want to get a bigger loan.
Credit Score
What is your credit score? A higher credit score will lead to lower interest rates and better deals on loans from the dealer because they'll trust you more. If you have good or excellent credit, then this won't be as big of an issue however if it's below average then expect to pay for that low credit score.
Pick A Proper Car
When considering a new car, there are many important factors to keep in mind. Doing research on cars first will help you narrow down your choices and know what car is best for your needs. There are some key questions that should be asked when researching new cars:
What do I need my new car to do?
If you have a family and need space for everyone plus cargo room then it would be wise to look at SUVs or minivans.
If you are looking for gas mileage then new cars that use hybrid or electric engines might be the way to go.
What type of new car is best suited?
There are four main types: small city cars, midsize cars, large family sedans, and new SUVs.
What new car features are most important to me?
Features that drivers may want in their car include heated seats, a sunroof, Bluetooth capabilities, or an infotainment system with navigation and satellite radio.
Be smart, do some market research, compare these things before buying a car. That will help you to narrow down your search for a perfect car.
Make Sure To Get A Test Drive
It's worth the time and effort to test-drive it before you buy them. Ideally, you want to do this process quickly so that your impressions are fresh in mind for comparison purposes.
Consider setting aside an afternoon or morning of mid-week if possible when car dealerships aren't as busy with customers.
Check For Comfort
One of the most important things you should check for when test driving a new car is how comfortable it feels to sit in. A good example would be if your arm height can reach comfortably from the steering wheel to shift gears or if you are able to access all buttons on the dashboard without difficulty.
Make sure that both driver and passenger seats adjust accordingly and that the seats are comfortable enough for long trips.
Breaks And Handling
The new car you are considering should have new breaks that can stop quickly and handle well in a variety of situations. The new handling is also important because the new car's steering, suspension, brakes, tires, etc., will be more responsive than those on an old model.
If you're not sure about how to assess this when doing your test drive, ask someone at the new car dealership.
Look For The Tires
New car tires should have plenty of tread and any signs of wear on the sidewalls, an indicator that they're at least six years old. Newer vehicles are equipped with tire pressure monitoring systems that will warn you when your tires need air or new ones.
If you plan to drive in snowy conditions be sure to check snow tread.
Take Dealers Quote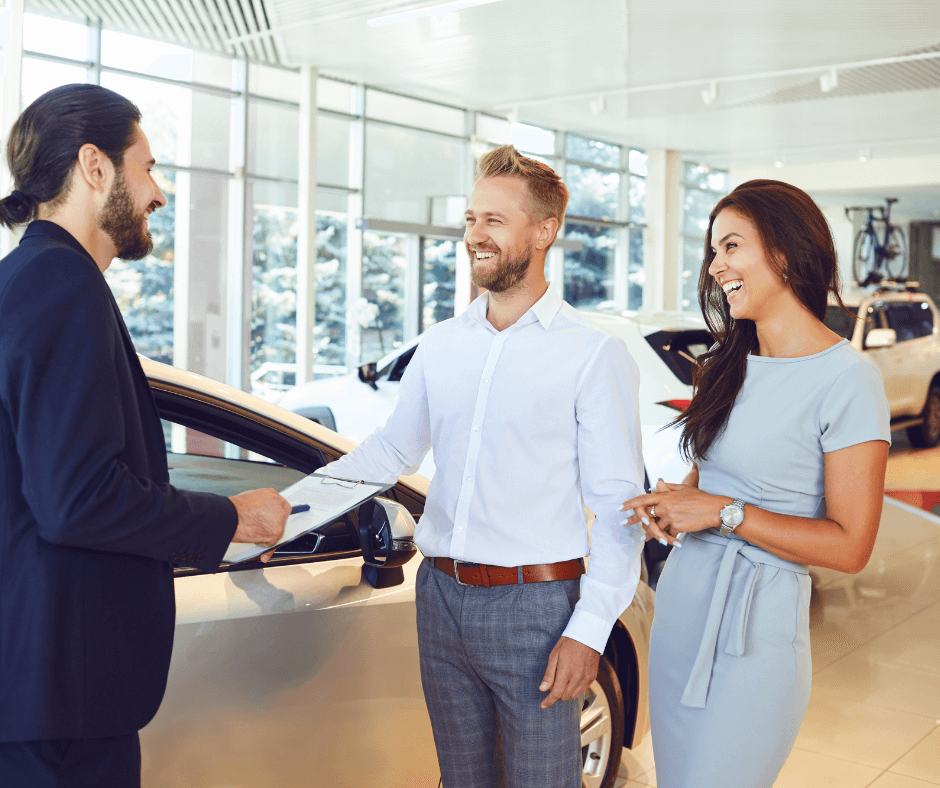 Taking a quote for your new car from the dealer can help you to sort out heaps of things:
Negotiating
Many new car dealers will offer you a quote via email. The quotes are usually in the form of percentages based on what is paid upfront vs. financed and whether they're buying new or used cars. Using this information can use to negotiate a better deal on your new vehicle purchase.
Ask For Hidden Fees
Before saying yes to the deal ask your car dealer for any other hidden fees. Car dealerships are known for tacking on additional costs that you never expected. So it is important to make sure they don't charge you anything new before signing the papers.
Don't Be Predictable
If you are new to car dealerships, don't be predictable. Walk around and see what's new they have. If you like the deal that is being offered, then make your purchase but if not it's ok to walk away and shop elsewhere.
Get A Good Deal And Go For It
When you are new to buying a new car, it can be hard to know what price is good and what is too high. The best way to figure out how much your new car should cost? Take the blue book value of your old vehicle and subtract the down payment, new car taxes, new tags, and fees. That is how much you should be spending on your new vehicle every month for a 36-month loan.
The next step to finding out what price is right for you? Go look at dealerships nearby! You can start checking prices online, but the best way to make sure you are getting a deal is by going in person and talking with salespeople about what price they can offer you for your new vehicle.
Once you have found out how much new cars cost near your location, go seal the deal!
Need An Auto Service Expert For Your New Car?
When it comes to your new car, you want a reliable auto service expert. Dependable Car Care is always here to help you with all of your automotive needs.
With our state-of-the-art equipment and highly trained staff members, we are confident that we can provide the care and expertise needed for any make or model of vehicle.
We'll take good care of you so call us today or visit dependablecarcare.com!